BREAKFAST TACOS
by HexClad Cookware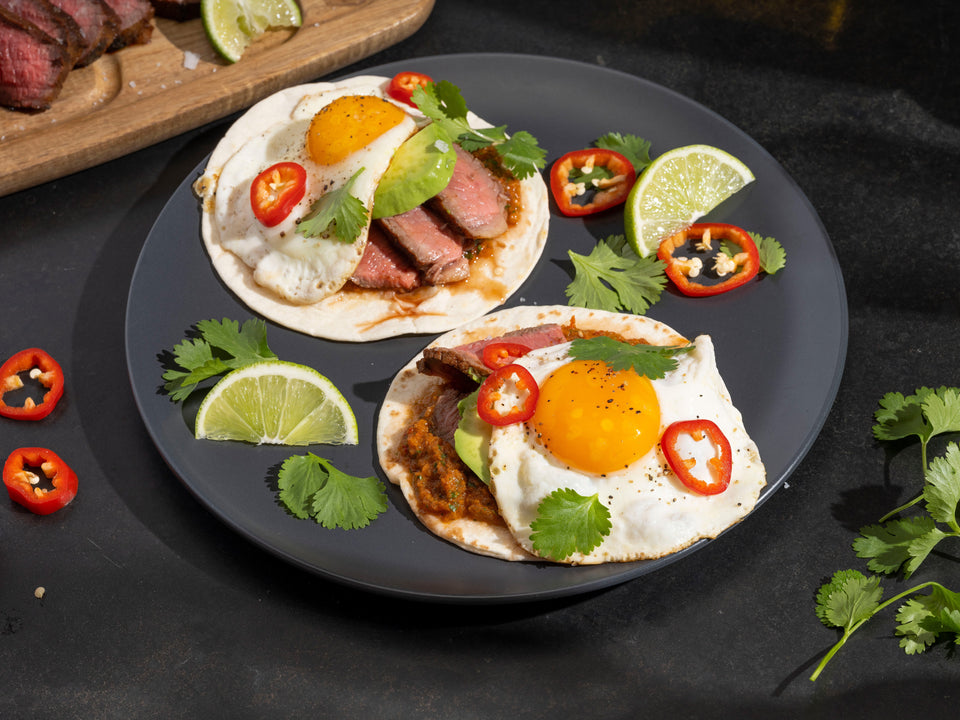 COFFEE RUBBED STEAK AND EGG BREAKFAST TACOS WITH BURNT TOMATO AND TEQUILA SAUCE
Makes 4 tacos
4 small flour tortilla
1 sirloin steak
1 avocado, flesh removed and sliced
4 large eggs
For the rub:
1 tsp ground instant coffee
1 tsp smoked paprika
1/2 tsp garlic powder
Pinch chili powder
Pinch salt and pepper
For the salsa:
4 large plum tomatoes
1/2 red onion, roughly chopped
1 red chilli
1 clove garlic
1 lime
Small bunch coriander
Extra virgin olive oil
2 tbsp tequila
Method
For the salsa:
Preheat the grill / broiler to high
Add the tomato, red onion, chilli and garlic to a baking sheet. Drizzle with oil toss together. Place under the grill for 5-8 minutes until charred. Alternatively, heat a 12 inch skillet over medium heat, add 1 tablespoon oil and cook the vegetables until softened and browned.
Transfer the vegetables to a blender. Add the coriander, salt, tequila, drizzle of oil and squeeze of lime. Blitz until your desired consistency. Season to taste
For the steak and eggs:
Coat the steak in the rub
Heat a 30cm (12 inch) frying pan over a high heat with a splash of oil,
Add the steak, cook for around 2 minutes on each side until a golden charred crust forms, remove to a plate and allow to rest for 4 minutes then cut into thin slices
Whilst the steak rests. Reduce the heat of the pan to medium, add a knob of butter. When foaming gently crack in the eggs.
Fry for a couple of minutes until the whites are set and the yolks still runny.
Meanwhile heat the tacos in a large dry frying pan for 30 seconds on each side
Divide the sliced avocado between the tacos, top with salsa, steak, and eggs with a drizzle of the butter from the pan. Garnish with red peppers and cilantro.
Serve