Butternut Squash Carbonara W/ Bacon, Onion, and Fresh Herbs
by HexClad Cookware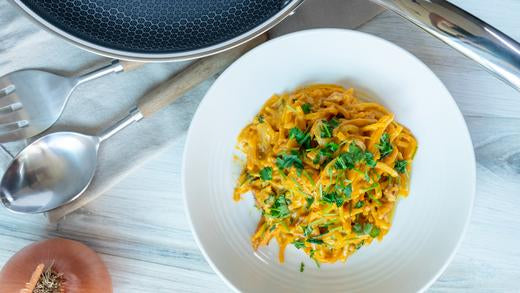 Recipe By: Chef Gary Nguyen
Ingredients:
1 lb Butternut Squash Noodles
1 cup heavy cream
1 ea egg yolk
2 oz Pancetta chopped) 
1 whole onion (sliced)
Salt and black peppercorn to taste
2 cloves garlic
1 tablespoon olive oil
Instructions:
Bring a 30 cm Hexclad Wok to medium heat then add pancetta, olive oil, and onions.  Frequently stir with a wooden spoon to prevent burning.
Next, add the butternut squash noodles and a pinch of salt.
Add cream, mix and allow the noodles to cook for a few minutes.
Add more salt and pepper to taste
Turn off the heat then fold in the egg yolk. Mix thoroughly for 2-3 minutes.
Once finished, transfer to plates and garnish with parmesan cheese and fresh herbs. 
Pro Tip: I like to add chili flakes and black pepper with extra virgin olive oil for that extra touch!