Pumpkin Pancakes With Whipped Cream and Maple Syrup
by Ryan Rodriguez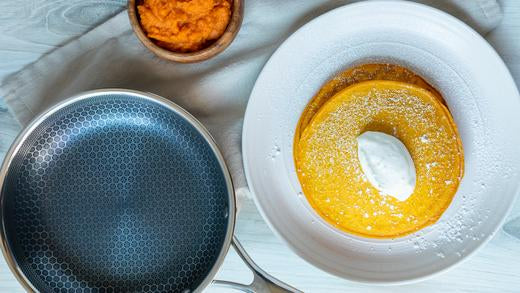 Recipe By: Chef Gary Nguyen
Ingredients:
1 cup Pumpkin Puree
1 cup milk
1 ea egg
2 cup all-purpose flour
½  tsp salt
1 tsp baking powder
1 tsp baking soda
1 tsp ground allspice
1 tsp ground cinnamon
1 tsp ground ginger
Instructions:
In a mixing bowl, mix together the milk, pumpkin puree, eggs, and oil. 

In a separate bowl, combine the flour, baking powder, baking soda, allspice, cinnamon, ginger, and salt. Stir in pumpkin mixture just enough to combine.

Lightly oil a Hexclad pan with cooking spray or butter. Bring to medium-low heat.

Pour about 1.5 oz the batter. Once edges start to bubble flip. Brown both sides until golden brown. Serve with whipped cream, powdered sugar, maple syrup and enjoy!