Spicy Udon Noodles
by HexClad Cookware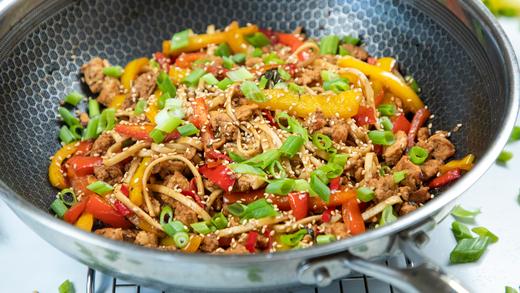 Recipe //
Ingredients:
1 pound ground chicken or turkey (optional)
8-10 ounces dried udon noodles
2 red or orange bell peppers, sliced
1/4 cup rice vinegar
1/2 cup low sodium soya sauce
2 tablespoons hoisin sauce
2 tablespoons sesame oil
1 tablespoon fresh ginger grated
2 Fresno peppers, seeded and chopped
1/2 cup fresh basil, chopped
2 green onions, chopped
2 tablespoons sesame seeds
Instructions:
Bring water to a boil in your HexClad Wok. Once water is boiling, cook the udon noodles according to package directions. Once cooked, drain noodles and return to Wok.

Combine the soy sauce, vinegar, hoisin sauce, and 1/4 cup water in a bowl and whisk.

Heat your 10'' or 30 cm HexClad pan to medium-high

 

heat. Add the sesame oil and the ground chicken. Season with black pepper and brown all over, breaking it up as it cooks, about 5 minutes. Add the bell peppers, ginger, and

 

fresno

 

peppers. Cook another 4-5 minutes. Add in your soy sauce mixture and basil. Bring the mixture to a simmer and cook until the sauce coats the chicken, about 3-5 minutes. 

Pour chicken mixture into Wok with noodles and stir to combine. Add the green onions and sesame seeds. Serve the noodles warm, topped with green onions. Enjoy!