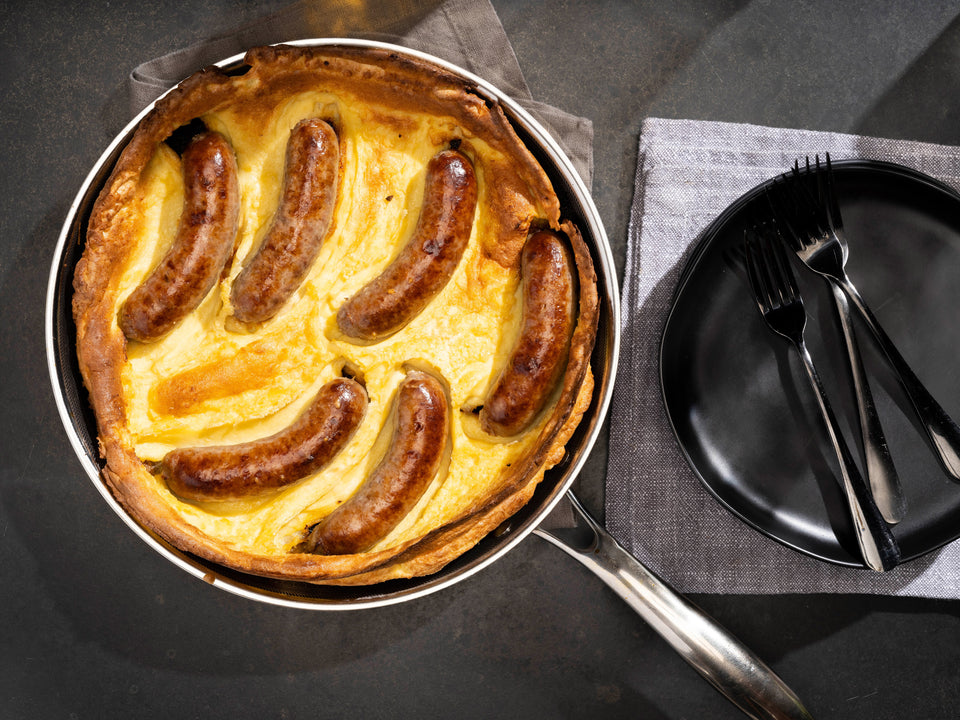 What You Need
Preparation
Method
Preheat the oven 220 degrees c (425 F)
Pour 4 tbsp of vegetable oil into a 30cm hexclad (12 inch)
Preheat the pan in the oven for 15 minutes.
For the batter:
Sieve the flour into a large bowl, add a pinch of salt
Make a well in the center of the flour, pour in the eggs then begin to whisk.
As it comes together gradually add the milk, whisking all the time until you have a smooth batter. Set aside to rest
In a small frying pan over a medium heat fry the sausages for a few minutes until golden all over.
When the pan in the oven has preheated, remove to the worktop. Add the sausages then pour in the batter. Return to the oven and bake for 20-25 minutes until risen and golden.
Meanwhile, to make gravy, heat 1 tbsp oil in a large saucepan over a medium heat, add the onions and sugar with a pinch of salt. Gently Fry for 10 minutes until soft and golden
Add the balsamic, cook for 1 minute then pour in the stock.
Bring to the boil, then simmer for 10 minutes.
Mix the cornstarch with a splash water to form a paste, add to the gravy to thicken
Remove the pan from the oven.