Sicilian Salmon with Garlic Broccoli and Tomatoes
by HexClad Cookware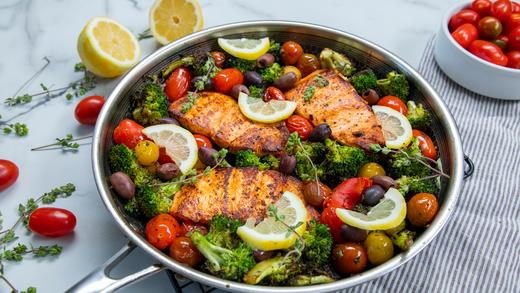 //RECIPE:
Ingredients:
4 salmon fillets
2 cups broccoli florets
1 cup cherry tomatoes
extra virgin olive oil, for rubbing
1/2 cup pitted kalamata olives
1 teaspoon red pepper flakes
1 teaspoon paprika
juice from 1 lemon
4 cloves garlic, minced or grated
2 tablespoons chopped fresh oregano
zest from 1 lemon
splash of white wine
kosher salt and pepper
Instructions:
Heat a drizzle of olive oil in your 30 cm HexClad Pan over medium-high heat. 

Rub the salmon with olive oil and lemon juice. Sprinkle on chili flakes, paprika, salt, and pepper.

Place Salmon flesh side down in the skillet and sear until crisp (about 3-4 minutes). Flip and cook for another minute (or until your desired doneness is reached). Remove the salmon from the skillet and set aside. 

Add another drizzle into your 
30 cm HexClad Pan

 

 then add the broccoli. Cook until tender (about 5 minutes).

Next, add the tomatoes, garlic, oregano, lemon zest, salt and pepper and cook until the tomatoes begin to burst (about 4-6 minutes).

Remove from the heat and add a splash of wine to create a sauce.

Add the olives and slide the salmon back into the skillet to warm throughout. 

Garnish with fresh oregano, serve and enjoy!