Warm Cinnamon Bread With Honey Glazed Apples
by HexClad Cookware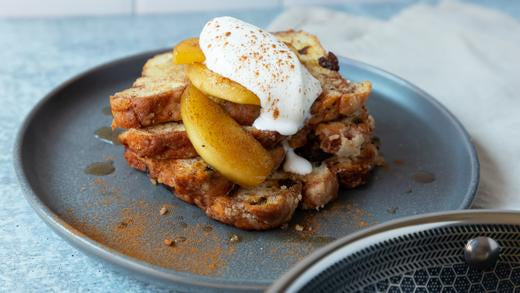 Recipe By: Chef Gary Nguyen
Ingredients:
1 loaf Cinnamon Bread
2 ea Pink Lady Apples
1 oz Honey
2 ea Cinnamon stick
1 pint Whipped cream
Instructions:
Peel, core, and quarter the apples.
Bring a Hexclad pan to medium heat. Place apples in a pan with one cup of honey. two cinnamon sticks and a pinch of salt. Sautee until browned.
Bring a separate Hexclad pan to medium-high heat.  Place slices of cinnamon bread down and toast until warm. 
Transfer toasted slices to a plate. Top with apples and a spoonful of whipped cream.
Finish with cinnamon powder and powdered sugar as desired.