One Pan Chicken Parmesan
by HexClad Cookware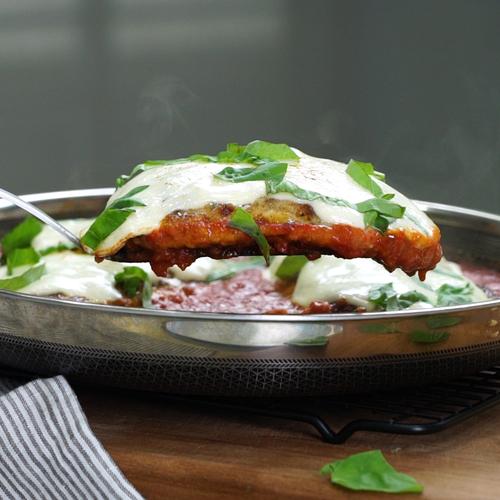 Recipe //
Ingredients:
3 boneless skinless chicken breasts
1/2 cup flour
1/2 cup Italian seasoned breadcrumbs
1/4 cup parmesan cheese
1 egg
1/2 cup milk
1 tablespoon butter
2 tablespoons olive oil
Additional parmesan cheese for topping
4 ounces of sliced mozzarella cheese
Store bought marinara sauce
Salt and pepper
Instructions:
Pound the chicken breasts between two slices of plastic wrap until about 2/3 cm thick.

Season with salt and pepper.

Dredge chicken in flour and shake off excess.

Dip in egg/milk mixture, then in breadcrumb/parmesan mixture.

Heat the butter and olive oil in your 30 cm HexClad pan.

Brown the chicken breasts over medium heat until golden on each side (about 2-3 min per side).

Remove to a plate and keep warm.

Add the marinara sauce to the same pan.

Heat to boiling and simmer for 10 minutes.

Add the chicken breasts to the sauce and sprinkle parmesan over them.

Place a slice of mozzarella on each piece of chicken.

Cover and simmer about 8-10 minutes or until the cheese has melted and the chicken is tender.

Serve with your favorite pasta and enjoy!